A Glossary of Mathematical Terms - H
Harmonic mean
Two times the product of two numbers a and b divided by the sum of the numbers.
Height
See Altitude.
Hemisphere
See Sphere.
Heptagon
A seven-sided polygon.
Hexagon
A six-sided polygon.
Histogram
A symbolic representation of discrete or continuous data, made using bars, where each bar represents a range of values when the variable is continuous.
Hyperbola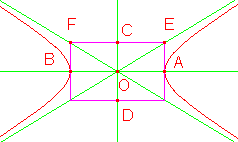 One of the conic sections.
Center: O;
transverse (real) axis: AB;
conjugate axis: CD;
vertices: A, B;
asymptotes: the straight lines OE and OF.
Hypotenuse
The side opposite to the right angle in a right triangle.
copyright 2000 et seq. maddalena falanga & luciano battaia
first published on september 01 2003 - last updated on september 01 2003